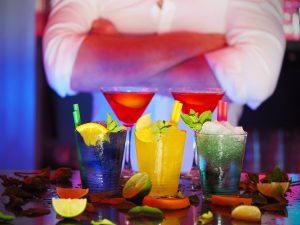 Imbibe Live is the go-to UK trade show for businesses involved in the drinks industry.
me&you design agency always visits Imbibe Live to meet with existing clients, connect with a few prospects and gather trends and insights to share with our Food and Beverages clients.
In contrast to the more sedate wine-only trade events, Imbibe Live is a bustling, active, noisy and colourful event, and 2019 was no exception!



This great atmosphere was mainly powered by the vibrant spirits brands on display. This year Imbibe Live also added the Snack Show as a suitable accompaniment.
At me&you, our goal is always to deliver creative work that powers F&B sales. We create marketing that matters and solves problems and we don't do fluff, fly-by-night, pointless 'stuff'. That's why we attend trade events and always educate our design and branding team. 
So let's dive in and share our knowledge:
---
UK Hospitality - the voice for the hospitality sector 
Jim Cathcart of UK Hospitality provided an insightful session on how government policy may influence the drinks and hospitality market. He highlighted that the Hospitality sector is the 3rd largest private sector employer in the UK and as such needs a voice to ensure they are heard by government. That's the role UK Hospitality embraces and they've produced a range of helpful reports worth checking out. 
Key topics Jim highlighted:
Tourism Sector Deal; hot off the press; this deal sets out how the government and industry will work in partnership to boost productivity, develop the skills of the UK workforce and support destinations to enhance their visitor offer. The goal - to deliver a world class experience economy.

Worth a read!

Sustainability

; for most hospitality businesses they run a closed loop returning used glass bottles. However there is more we can all do, including reducing and ideally removing single-use plastic within our product packaging. Jim also highlighted that with a growing consumer focus on sustainability, there may be an opportunity to increase business from this. Pubs could include recycling stations in car parks and attract more business. If you remove plastic from your packaging, you could highlight this in consumer campaigns too and stand out from those that aren't doing it yet.

Allergens and Calories

mandatory labelling on 'food to go' will be rolling out across the sector. This includes full ingredient labelling for food made on site. The specifics of the policy though aren't fully defined, for example imagine the complexity of rolling out calorie details on every menu item or a small sandwich stall having to provide full labelling for every sandwich they produce. Jim's guidance was to increase the communication piece between staff and customer around 'ask me about allergens' so there's a need to educate your team and communicate access to information for all consumers.
---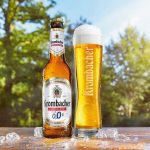 Big growth in the No and Low Sector
With entire sections of the show dedicated to No alcohol and Low alcohol brands, there is definitely a consumer-driven growth in this sector.
The clients we spoke to in wine, beer and spirits sectors highlighted this growth, with businesses actively enquiring about these products. The No and Low sector growth shows no slow down. Part of this is down to consumers wanting to reducer their alcohol consumption - but it's not the only driver. Read here what Beverage Daily had to say about these trends.
Image: Krombacher Pils Alkoholfrei 0.0%. Credit: Imbibe. 
---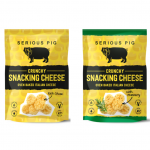 Flavour, Flavour, Flavour
We headed up to the small but perfectly formed new Snack Show and dropped in on a lively discussion on 'what's trending'.
George Rice of Serious Pig (check out their fantastic cheese snacks by the way!) highlighted that "it's always flavour, flavour, flavour first" - that no matter what, the trend from sustainable protein sources to past years' insect snack focus. It's clear if the flavour isn't there the product isn't going mainstream. That's what he based his business around - identifying that Peperami was a popular product… but there wasn't a decent flavour first version.
It's great to see our Discovery process backing this up. At me&you, whenever our creative team take on a new branding project for food and drink clients, we always kick things off with a tasting and drinking session. It's vital we understand the product, how it tastes, how best to experience it - that informs our design process - plus we love a good nibble and sip! We've even occasionally highlighted a few areas to improve and adjust ingredient mix.



---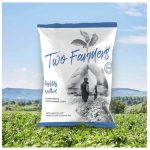 Anti-Plastic
It seems appropriate to finish our insights round-up on a topic that's larger than just drinks. It's clear that the anti-plastic movement is rightly growing. We are seeing our clients approaching us asking how to repackage their product to use less or no single-use plastic. For some products this is relatively easy to achieve - some excellent cardboard engineering later and you've got packaging that reflects the quality of the product whilst having better environmental credentials. 
The bigger challenge is within the moisture-sensitive product, typically crisps, nuts and dried meat products. There are companies innovating in this area - checkout Snack Shed with their compostable packaging and Two Farmers with their bio crisp packet. Yet still so much to do and certainly at scale - the bigger businesses definitely need to lead on this one.
Image: Two Farmers 100% compostable crisps packaging. Credit: Two Farmers Instagram 
---
Did you visit the Louis Latour Agencies stand at Imbibe Live 2019? With a stand and wine portfolio brochure designed by me&you, Louis Latour Agencies were proud to launch two new products: Gosset Grand Millesime 2012 champagne and Frapin 15 Year Old XO cognac.
If you'd like to know more about how me&you supports the Food and Beverage industry with creativity, brand strategy and design - simply get in touch by calling 01732 743 455 or email hello@meandyou.co.uk
Download our portfolio of branding wine, spirits and drinks businesses
Explore more creative work by me&you
---
Thanks to the Imbibe Live 2019 team, the seminar panelists, our F&B clients and our creative team.
Matt Eamer, me&you founder, at Imbibe Live 2019